Hello from Natalie
Hey there!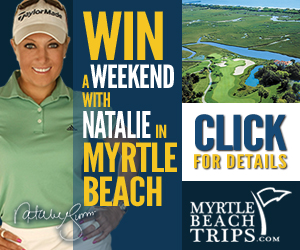 I wanted to let you know how excited I am to become a part of the team here at MyrtleBeachTrips.com! I'm going to be wearing their logo on my golf shirt sleeve throughout the 2014 LPGA Tour schedule as I go after the first-ever Race to the CME Globe.
You might be wondering what connection a West Coast girl like me has to Myrtle Beach …
Well, my dad and I used to vacation here when I was a little girl. I've played my fair share of free golf in the Myrtle Beach thanks in large part to the Kids Play Free program that my friends from Myrtle Beach Trips have offered for years. Their 22 Prime Times Signature Courses are awesome and they span the beach, from Farmstead Golf Links in Calabash, North Carolina all the way down to Pawleys Plantation in Pawleys Island.
Speaking of which, I'm thrilled to announce that Pawleys Plantation will be my Myrtle Beach-area home course. It's one of two Jack Nicklaus Signature courses in the Prime Times collection and it is a gorgeous place.
Throughout the year, I'll also be posting a bunch of pictures and links to my favorite things about Myrtle Beach on my Twitter page. If you don't already, be sure to follow me @Natalie_Gulbis. If you want to share some of your favorite things about Myrtle Beach, be sure to use the tag #MBNatalie. I'll be retweeting my favorite responses periodically. Also, be sure to follow my friends at @MBTrips to get the latest on everything Myrtle Beach.
Hope to see you soon in sunny Myrtle Beach!
Best,